Can a former oil executive hold together the Anglican Church?
Justin Welby, appointed Archbishop of Canterbury today, is equipped to deal with the church's divisions, observers say, thanks to his corporate experience and charisma.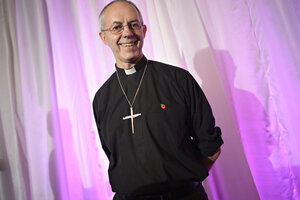 Dylan Martinez/Reuters
The outgoing head of the Church of England once said that he hoped his successor would have "the constitution of an ox and the skin of a rhinoceros."
Justin Welby may well be considering those words today, after being appointed the new Archbishop of Canterbury, the head of the Church of England and symbolic leader of the world's estimated 85 million Anglicans.
Downing Street officially announced the appointment of Mr. Welby, the bishop of Durham and a former oil company executive, Friday, after two months of deadlock involving the secretive appointments panel that was charged with coming up with the name, which the prime minister recommended to the queen. Now, Welby, who has been bishop for less than a year following a meteoric rise within the Church of England, will occupy one of the most prestigious and high-pressure posts in British public life.
He takes over from Rowan Williams a church struggling with shrinking congregations in Britain and beset with divisions over women clergy and gay marriage. But many observers say Welby, the fourth-most senior figure in the Church of England until now, is better equipped for those challenges than anyone else in the church's hierarchy as a result of his corporate experience and relatively good standing among both conservative and liberal factions.
---