Support for gay marriage in France declines as government pushes bill
French President Hollande promised to legalize marriage and adoption for same-sex couples when he became president. But now that he's following through, the issue is becoming divisive.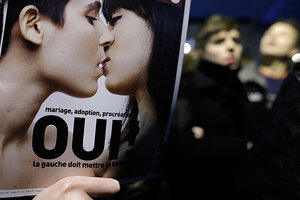 Christian Hartmann/Reuters
France's government unveiled a bill Wednesday to legalize marriage and adoption for same-sex couples amid heated rhetoric and waning popular support for what appeared to be an uncontroversial issue just a few months ago.
French President François Hollande considers the bill to be a step toward equality and a symbol of progress for the whole society.
"The president obviously underscored that this bill was going to open a debate as we know, [and] that this debate is legitimate," Najat Vallaud-Belkacem, the government's spokeswoman, said at a weekly press briefing, adding that debate "must be kept under control, it must be respectful of opinions and beliefs."
The bill was presented during the government's weekly meeting at the presidential palace and is expected to go to Parliament and become law next year. The legalization of marriage and adoption for gay couples was part of Hollande's political platform during the presidential campaign earlier this year.
Analysts say that even though introducing the bill now might not be a good idea politically, the government has had no choice but to push it along in order not to look weak on this issue in the eyes of voters.
Céline Bracq, the associate director of the polling group BVA Opinion, says the French government is pushing the bill now because it wants to convince voters that it still has a left-wing and progressive agenda despite tough economic times. This strategy, however, could be counterproductive as the public wants the government to focus on economic issues rather than legalize marriage and adoption for gay couples now, she says.
---