Eurozone, IMF clash over Greek debt as deadline looms
IMF chief Christine Lagarde and European financial ministers debated today over how to prevent Greece from collapsing, even as Athens faces mandatory debt payment on Friday.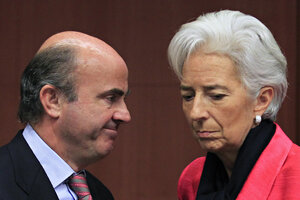 Yves Herman/Reuters
The term "troika" describes a traditional Russian sledge drawn by three horses – all pulling in the same direction. But for Europe's so-called financial troika of the European Union, the European Central Bank (ECB), and the International Monetary Fund (IMF), that metaphor now doesn't seem to apply.
In a rare display of disagreement, eurozone finance ministers today clashed with IMF chief Christine Lagarde over the way to prevent crisis-stricken Greece from collapsing completely from its public debts.
The eurozone has come to the conclusion that the target to have Greece lower its debt-to-GDP ratio to 120 percent by 2020 is too ambitious. A 120 percent ratio is widely perceived as the threshold above which an economy cannot operate any longer – and Greece's debt to GDP ratio is expected to hit 190 percent next year. So eurozone finance ministers decided to give Greece two extra years to reach 120 percent.
"The target, as far as the time-frame is concerned, has been postponed to 2022," said eurozone chief Jean-Claude Juncker. Of course this would mean two more years that Greece would depend on financial aid.
But the announcement visibly upset Ms. Lagarde. She and the IMF insist that the existing aim of Greece reaching the 120 percent threshold by 2020 should remain, and that in order to help Athens, the eurozone governments should write off some of Greece's debt. Such a haircut – a debt write-off – was agreed to by Greece's private lenders at the beginning of the year, shaving more than €100 billion off the country's obligations.
---