Anti-austerity strikes rack Europe, but will they foment change?
Hundreds of thousands of workers marched in Spain and Portugal as part of a general strike to force leaders to rethink austerity measures. Workers also showed their discontent in Germany, Italy, Greece, and France.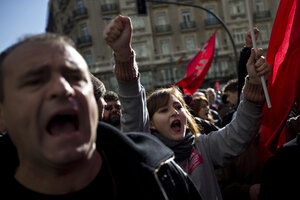 Daniel Ochoa de Olza/AP
Striking Spaniards and Portuguese brought transportation, industry, and public services to a halt Wednesday as part of a coordinated show of force in southern Europe, hoping to force leaders to reverse a wave of belt-tightening that has left millions struggling with unemployment and poverty.
Tens of thousands mobilized, many clashing angrily with police. Hundreds of flights were cancelled. Public transportation and ports operated at minimum levels, car assembly lines shut down, and many stores preferred to remain closed. "We demand profound change in the government's policies, or else they'll lead us over the cliff," said Cándido Méndez, leader of UGT, one of Spain's two biggest unions.
At least three dozen people were injured, half of them police, and dozens more were arrested in early clashes before the main protest marches called for the evening hours in major Iberian cities, including the Madrid one targeting a barricaded Parliament. Hundreds of thousands marched in evening protests in several cities, according to early reports.
Portuguese also came out in droves, affecting public services and industry. In Italy and Greece, there were also clashes during work stoppages. Belgium and France saw limited impact, and even in Germany, small protests took place during the "European Day of Action and Solidarity." Most of the action was in Spain, though, heart of the economic meltdown throughout 2012.
---