Irish abortion debate inflamed by pregnant woman's death
The death of Savita Halappanavar, who was reportedly denied an abortion when miscarrying, has upped the urgency of Ireland's current review of its near-total abortion ban.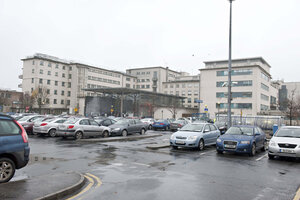 Press Association/AP
The death of a pregnant woman who was refused an abortion has reignited the debate over Ireland's near-total ban of the procedure, already under reexamination by the Irish government.
Tuesday night, even as a government-appointed "Expert Group" formally presented its advice on how to clarify Ireland's abortion laws, it was revealed that Savita Halappanavar, a 31-year-old dentist who was 17 weeks pregnant, had died in Galway University Hospital on Oct. 28 after being refused an abortion.
Ms. Halappanavar had asked several times for her pregnancy to be terminated because she was was miscarrying, according to her family. But her husband, Praveen, told reporters a termination was refused because there was a fetal heartbeat. Praveen also claimed his wife was told she could not have an abortion because Ireland was "a Catholic country."
A coroner's inquest and separate inquiry by health authorities are under way. The government has not ruled out a further, full public inquiry.
A controversial law
The news of Halappanavar's death broke late Tuesday as the government received the long-awaited findings of its Expert Group on the legal status of abortion.
Abortion is outlawed in the Republic of Ireland under the 1861 Offenses Against the Person Act. In 1983, the country strengthened its anti-abortion stance, amending its constitution to recognize a right to life in the unborn, "with due regard to the equal right to life of the mother."
However, a 1992 Supreme Court judgement known as the X Case ruled abortion was permitted if there was "a real and substantial risk" to the life of the mother.
---