Germany's Merkel pays Putin a prickly visit
Despite the strong economic ties between Germany and Russia, the country's relations have been strained as of late over the Kremlin's recent apparent political crackdowns.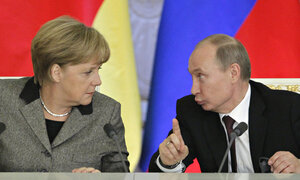 Maxim Shemetov/Reuters
Russian President Vladimir Putin and German Chancellor Angela Merkel held a tense meeting in the Kremlin Friday, as both clearly struggled to reconcile the rising political acrimony between their countries with their long-standing and increasingly important economic partnership.
The Russia-Germany summit is an annual affair, and it usually goes well, in part because of strong and long-standing economic relations, and in part because Mr. Putin – a German-speaking former KGB spy in East Germany – has gone out of his way to cultivate good relations with German leaders. But rising criticism in Germany of Putin's alleged "crackdown" on his domestic opposition has been met lately with a growing Russian unwillingness to accept "mentoring" from European leaders whose own home front is racked with economic and political disorder these days.
"Our relations with Germany are in crisis these days, but it's a superficial crisis," says Alexei Pushkov, chair of the State Duma's international affairs commission.
"The economic foundations are solid, but there are real political disagreements that look like a storm front coming in.... Our German friends have missed something, that things have changed since [the financial crash of] 2008, and Europe is less and less of a model for us. It's still a nice place, but we're not willing to take advice and accept criticism from them. This is gone," Mr. Pushkov says.
"There is more distance now, psychologically and politically, between Moscow and Europe.... The Germans think that good economic relations are a gift to us, in exchange for us changing ourselves to look more as they want us to. But we think Russia is a good market that they should cultivate and appreciate. Increasingly, all this criticism calls forth irritation in Russia," he adds.
Under pressure
Ms. Merkel has been under intensifying pressure at home to get tough with the Kremlin about perceived human rights violations, including the jailing of two women from the Pussy Riot radical performance art group for singing a blasphemous song in an Orthodox church.
---