Thousands protest in Ireland to liberalize abortion laws
The recent death of a woman reportedly denied an abortion has sparked outrage. In Dublin, thousands of marchers demanded liberalization of Ireland's tough – and, some say, unclear – anti-abortion laws.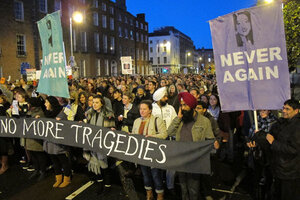 Shawn Pogatchnik/AP
Thousands gathered on the streets of the Irish capital of Dublin today to demand liberalization of Ireland's stringent antiabortion laws.
The street protest, the second the city has seen in three days, was called in response to the Oct. 28 death in a Galway hospital of Savita Halappanavar, who was pregnant and arrived at the hospital complaining of severe pain. She was reportedly refused an abortion, and died after complications during a miscarriage. Her widower, Praveen, says they were told this was because Ireland was "a Catholic country."
The death has sparked outrage across Ireland — and the world. One headline in an Indian newspaper's online edition accused Ireland of murdering Ms. Halappanavar.
Think you know Europe? Take our geography quiz.
March organizers claim a turnout of 20,000, but Irish police gave a figure of 6,000. Either way, the march was unusually large by Irish standards, wending its way from the Garden of Remembrance, a national independence memorial, to Ireland's Parliament, DáIl Éireann, just over a mile away.
"The mood was somber and angry and determined," says Wendy Lyon, a feminist activist and trainee attorney who attended the demonstration. "The sense was there has to be a turning point. That things can't be allowed to go on without change. Enough is enough, basically."
Ms. Lyon says Halappanavar's death has resulted in a sea change in Irish opinion, politicizing the previously apolitical: "I think the people really have shifted on it. I've spoken to people who were hesitant before but said something had to be done."
Two inquiries are ongoing into Halappanavar's death, one by the hospital and one by Ireland's Health Service Executive, the arm's-length body that administers Ireland's health system.
---