Spanish government struggles to respond to home eviction suicides
In less than a month, at least five people who were about to be forcefully evicted from their homes committed suicide. The issue is galvanizing opposition to austerity measures.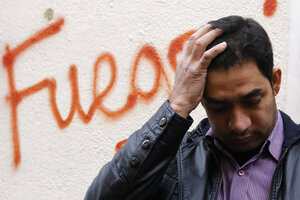 Andrea Comas/Reuters
Vilma Margarita Mejía cannot stop crying. She is weak and only whispers complete sentences after taking a deep breath. Any day now, today perhaps, police will come to her door and forcefully evict her, her two sons, and one brother from the home she's lived in for 20 years.
Nothing could prevent the bank from auctioning her apartment this week – not even a failed suicide attempt, or the fact that one of her sons recently underwent open heart surgery, or that she is awaiting a second operation possibly related to cancer. She is now illegally occupying the small space she has patiently decorated for years, but homelessness and an uncertain future are now a question of time.
"I've begged, but the bank would get mad at me and say I was making up my cancer. But I have nowhere to go and all my money went to the doctors," Mrs. Mejía, originally from Ecuador, says quietly, sitting in the raucous office of a civil society group demanding reform to an "illegal" eviction law.
Mejía's case and dozens more like it were the tipping point for pampered Spaniards. The evictions and a string of poverty-related suicides have come to embody painful austerity imposed by the government and Europe, and society is rallying around this common cause to rebel against the gradual tightening of an economic noose.
The conservative government of Prime Minister Mariano Rajoy offered a concession last week, after failing to strike a deal with the main opposition Socialist party to reform the eviction law. They instead decreed a two-year ban on evictions of the most precarious residents, as long as they meet strict criteria.
---