How Croatian agriculture bought the farm
Agriculture was once a core industry in the former Yugoslavia. But corruption and mismanagement turned the region's one-time breadbasket into a 'small war zone.'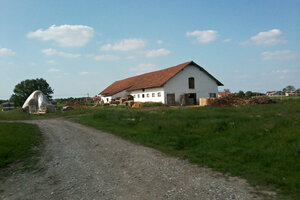 Ana Benacic
Beyond the long grass lies a runway where the planes no longer land. It was owned by the villagers here, along with the farm and the fields.
The crop-dusters flew away when the farm went bust. In the following years, the villagers' shares in their business also vanished, seemingly into thin air.
For Ivan Zivkovic, who worked at the farm, the disused airstrip is a neglected piece of an unsolved puzzle. "We never found out who owns it now, or what they paid for it," he says. "There is no trace of the money."
The collapse of his farm is part of an even larger puzzle – the catastrophic decline of agriculture in the breadbasket regions of the former Yugoslavia. Food imports and prices are rising in countries that once fed themselves comfortably.
In the lush plains of Serbia, farmers are getting poorer, while their children migrate to the cities for work. In Croatia, agriculture today accounts for three percent of the Gross Domestic Product (GDP), compared to almost 20 percent two decades ago.
Trade liberalization and the current economic crisis bear some of the blame, as do the conflicts that tore the former Yugoslavia apart. But across the region, experts say it is corruption and mismanagement that have brought agriculture to its knees.
No soldiers traded gunfire over Mr. Zivkovic's farm in eastern Croatia. Instead, its workers spent the 1990s fighting businessmen and lawyers for their tractors and orchards – the spoils of a privatization deal gone wrong.
"It was like a small war zone," says Marko Tominac, an insolvency manager who tried to settle the farm's accounts among Zivkovic and his colleagues. "Everybody was screaming that everybody else was getting the bigger part – including the workers."
---