Russian beauty queen puts spotlight on Russia's official corruption
Her public denunciation of Russia's corruption surprised some this week. It also coincided with one of the Kremlin's periodic efforts to convince Russians that something is being done about it.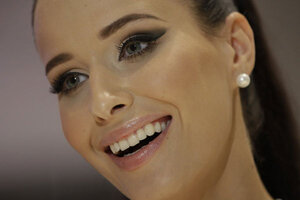 Aaron Favila/AP
A Russian beauty queen garnered global headlines this week by standing by her impassioned denunciation of the endemic corruption that demoralizes society and saps the economic life of her homeland, made in an essay she'd written that was supposed to be about why she's proud to be a Russian.
"But my Russia – it is also my poor, long-suffering country, mercilessly torn to pieces by greedy, dishonest, unbelieving people," Natalia Pereverzeva wrote in an essay that was part of her entrance requirement to the Miss Earth competition this week in Manila, Philippines.
"My Russia – it is a great artery, from which the 'chosen' few people are draining away its wealth. My Russia is a beggar. My Russia cannot help her elderly and orphans. From it, bleeding, like from a sinking ship, engineers, doctors, teachers are fleeing, because they have nothing to live on," she wrote.
Ms. Pereverzeva's outburst was almost certainly spontaneous, based on her own personal experience and straight from the heart.
But it also happens to coincide with one of the periodic anticorruption crusades launched from the Kremlin to convince the Russian public that something is being done to combat the official graft that by some accounts siphons off as much as a third of Russia's gross domestic product and undermines the effectiveness of all government efforts, from law enforcement to preparations for the Olympic Games.
---