Amid bitter leadership row, French conservatives tap Copé
Jean-François Copé today was named the winner of the conservative UMP party's recount. But rival François Fillon begs to differ.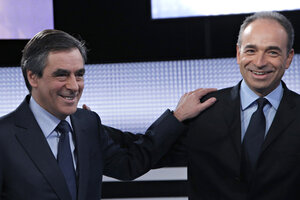 Christophe Ena/AP/File
An internal committee investigating the contentious Nov. 18 election for leadership of France's right-wing opposition UMP party has declared a winner, but the struggle between two prominent French conservatives over the UMP's top spot looks set to continue, likely in court.
The party's internal investigation began last week after initial results showed Jean-François Copé with only a 98-vote victory over François Fillon. Today, the committee declared Mr. Copé the UMP's new leader. But while Copé called for the party to choose "forgiveness instead of division," Mr. Fillon rejected the recount as "illegal."
Fillon was prime minister during former President Nicolas Sarkozy's tenure and is considered more moderate than Copé, the current party leader who held a position equivalent to a US House majority leader until June, when the Socialist party and its allies won France's parliamentary elections.
What started as a neck-and-neck election eight days ago between Copé and Fillon has quickly escalated into a public political war to succeed President Sarkozy as right-wing leader, with both men fiercely criticizing each other and accusing one another of cheating.
---