Planeloads of Syrian currency exposed, but does the Kremlin care?
A new report reveals that Russia printed and shipped eight planeloads of Syrian currency to Damascus over the summer, providing a critical lifeline to the Assad regime.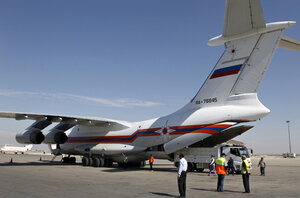 Khaled al-Hariri/Reuters/File
Russia is literally sending planeloads of cash to help Syrian strongman Bashar al-Assad prop up his regime and fund his increasingly desperate struggle against a nearly two-year-old rebellion that has killed over 30,000 people.
According to the New York-based nonprofit corporation for investigative journalism, ProPublica, an examination of flight manifests obtained by the organization and published on its website proves that a Syrian Air Force Ilyushin-76 cargo plane made at least eight round-trip flights between Moscow's Vnukovo Airport and Damascus between July 9 and Sept. 15 last summer – each time hauling home 30 tons of freshly printed Syrian banknotes.
That means that Mr. Assad received about 240 tons of banknotes, which experts calculate would be about 240 million crisp new Syrian pound notes of various denominations. One Syrian pound is currently worth about 1.5 US cents.
The overflight logs published by ProPublica show that the Syrian flights passed over Azerbaijan, Iran, and Iraq, presumably in a bid to avoid Turkish airspace. In October, Turkey – which supports Syria's rebel movement – forced down a Syrian airliner over its territory and accused Moscow of using civilian jets to supply weaponry to Damascus.
---