Staying afloat: Europe releases more money for Greece
After a 12-hour meeting lasting into the wee hours last night, Greece's creditors agreed to cut its debt and release more bailout funds, staving off yet another Greek bankruptcy.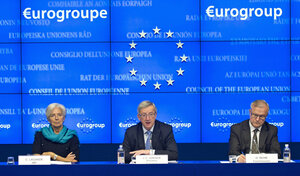 Jock Fistick/Reuters
After weeks of struggling in marathon meetings, Eurogroup finance ministers have finally come up with another bailout package for Greece, removing from Athens the imminent threat of a state bankruptcy and a Greek exit from the common currency, the euro.
Ministers from the 17 eurozone countries and officials from the International Monetary Fund (IMF) and the European Central Bank (ECB) agreed after another 12-hour meeting in Brussels last night to cut Greek sovereign debts by €40 billion ($52 billion) and to release another tranche of €44 billion ($57 billion) of bailout loans. The money will be used to refinance Greek banks and to pay salaries and pensions for state employees.
"Tomorrow, a new day starts for all Greeks," Prime Minister Antonis Samaras told reporters in the early hours of Tuesday after staying up to follow the tense Brussels negotiations.
The sentiment was shared by his European colleagues. "This is not just about money," said Eurogroup president Jean-Claude Juncker. "It is the promise of a better future for the Greek people and for the euro area as a whole."
Markets around the globe reacted positively to the deal with shares in Europe and Asia rising to a three-week high and the euro reaching its highest level against the dollar since the end of October, at about $1.30.
---