Tabloid breakup? Cameron and Clegg on the skids
David Cameron and Nick Clegg, the leaders of Britain's two-party coalition government, are at odds over the changes to Britain's press regulation system recommended by Lord Leveson.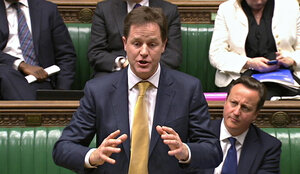 UK Parliament/Pool/Reuters
A judge handed down his verdict on British press standards Thursday by calling for a new regulator to eliminate what he described as a "sub-culture" of unethical behaviour, accusing sections of the industry of wreaking havoc with innocent lives.
But the judge's central recommendation – that a new regulator should be backed by law – has triggered new and deep divisions between the two parties that make up the government's often fragile coalition.
"It was sparked by public revulsion about a single act: the hacking of a mobile phone of a murdered teenager," Lord Justice Leveson said of his inquiry, which the government established following allegations that the now defunct tabloid, the News of the World, employed a private detective to access messages left on the cellphone of schoolgirl Milly Dowler following her disappearance in 2002.
During eight months of testimony at the inquiry, Leveson heard from witnesses including Milly's parents, and also cast an eye over issues ranging from press ownership to relations between the media, police, and politicians. But his recommendation to create a legislatively defined media regulator with enforcement powers – as opposed to the British press's current voluntary self-regulatory body, the Press Complaints Commission – has been met with markedly different responses from the heads of the government's two coalition partners, Prime Minister David Cameron of the Conservative Party and Deputy Prime Minister Nick Clegg of the Liberal Democrats.
---