Merkel meets Netanyahu as Israel and Germany hit rocky patch
Germany's abstention from the UN vote on the status of the Palestinian Authority angered Israel and raised questions about whether Germany's once almost unconditional support is changing.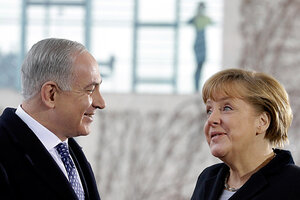 Michael Sohn/AP
With German-Israeli relations unusually tense, Chancellor Angela Merkel is scrambling today in an apparent effort to assure Israel that the two are still friends as usual.
When Germany abstained in last week's vote to change the Palestinian Authority's status at the United Nations to a non-member observer state, rather than vote against it, Israel took it poorly.
Prime Minister Benjamin Netanyahu complained about Germany's "lack of consistency" toward the Middle East peace process and attacked Chancellor Merkel personally: "I am disappointed in her," he told German newspaper Die Welt before he went to meet the chancellor for dinner on Wednesday.
"Israel's security is part of Germany's raison d'etre," said Merkel today.
Taking responsibility for the Holocaust has turned Germany into one of the strongest allies of the Jewish state, next to the United States.
But the German public seems to be saying it is not so sure it wants to support Israel as unconditionally as it has in the past. Any criticism, perceived or intended, from Germany is a big deal, as Berlin has solidly backed Israel in recent decades, leaving observers wondering if that support is changing now.
---