Norwegian protesters say EU Nobel Peace Prize win devalues award
More than 50 organizations plan to march in Oslo on Sunday to protest of the Nobel Committee's award of the 2012 Peace Prize to the EU at a time of debt crisis.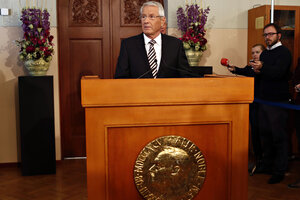 Heiko Junge/NTB Scanpix Norway/AP/File
Since the decision this October to give the Nobel Peace Prize to the European Union, many have questioned its worthiness, given the current social and economic turmoil there. Among the critics who will be booing loudest at the award this coming week will be the Norwegians themselves – including some in government.
The Norwegian Peace Council, which oversees several Norwegian peace organizations, plans a protest march against the prize on Dec. 9, the day before European Council President Herman Van Rompuy, European Commission President José Manuel Barroso, and President of the European Parliament Martin Schulz, accept the medal and diploma in Oslo City Hall.
The protest "Nobel Peace Prize Initiative for 2012" will include not only the Norwegian organization "No to EU," but also members of Norway's ruling Center and Socialist Left parties, the national trade union LO Oslo, and Save the Children Youth. More than 50 organizations plan to march from the central Oslo square at Youngstorget that evening, bearing torches and the banner "Not a Peace Prize For Our Time." Among the international participants, three former Peace Prize laureates plan to attend along with Dimitris Kostelas of the Greek opposition party Syriza, who will give the closing speech in front of Parliament.
---