On Europe's foreign agenda: how to handle Israel
The future of Israeli-European relations will be on the agenda when European Union foreign ministers meet today to broach the subject of Israel.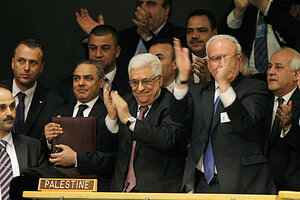 (AP Photo/Kathy Willens)
Compared with Americans, Europeans express more sympathies with Palestinians in their dispute with Israel. But their elected officials do not necessarily share that majority view, at least diplomatically, something that could be on display today when EU foreign ministers meet in Brussels.
While also not as unequivocal in their support toward Israel as their American counterparts, European decision-makers, from British prime ministers to French Socialists, have clearly aligned with Israel's goals, and when they've disagreed, they've done so only reluctantly.
So European support for the Palestinian bid to become a "nonmember observer state" at the UN last month and, days later, vociferous condemnation of Israel for announcing the authorization for new settlements were a double blow to a country that usually expects a European embrace.
This is not the beginning of some downward spiral for Israeli-European relations, neither for bilateral trade nor diplomatic ties. But the recent rebukes have several significant origins, from mounting frustration with Israel's settlement building to US inability to inch towards a resolution, especially as violence flares. Europe has long sat on the sidelines of the conflict, but positions like banning products from the settlements of Israel, whose No. 1 trade partner is Europe, are evolving and could help redefine Europe's role in the conflict.
---