Is Berlusconi really set to lead Italy again?
Mario Monti's resignation as prime minister of Italy has opened the door to Silvio Berlusconi's return to the office – and he has promised that he will run again in February's elections.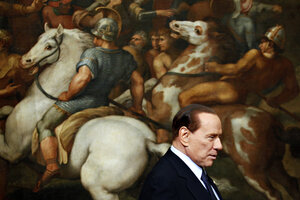 Stefano Rellandini/Reuters/File
He's back.
A year after his last stint as prime minister ended in the ignominy of financial crisis and sex scandals, Silvio Berlusconi has announced that he intends to become leader of Italy once again.
His announcement on Saturday that he will fight the national election expected to be held in February precipitated the surprise resignation of Mario Monti, the technocrat who has governed the country since Mr. Berlusconi's fall from grace.
It also pitched the country – and the rest of Europe – into fresh tumult and uncertainty, with politicians from Berlin to Paris to Brussels warning of disaster if Italy strays from the austerity cuts and structural reforms that Mr Monti has pursued over the last 13 months.
The key questions now are: Does Berlusconi stand a reasonable chance of returning to power for the fourth time in two decades, and what would it mean for Italy?
A long shot...
On the first question, the opinion polls at first glance offer him little hope.
The polls show that his People of Freedom party currently has around 15 percent of the vote, against the 35 percent enjoyed by its main challenger, the center-left Democratic Party.
But commentators – and the Italian public – have learned never to write off Berlusconi's chances.
He has an uncanny ability to tap into the mindset of the man and the woman in the street, he is a seasoned and in many ways brilliant election campaigner, and he can throw the full weight of his sprawling media empire behind his bid, from television stations to magazines and newspapers.
---