A Russian island encircled by Europe: Kaliningrad's dual existence
Once the Prussian city of Königsberg but now separated from the rest of Russia by Lithuania and Poland, Kaliningrad occupies a peculiar space in Europe both geographically and psychologically.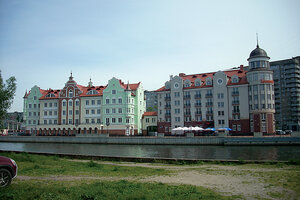 Michael Amundsen
On the banks of the Pregolya River in the city of Kaliningrad sits the commercial development known as Fish Village. It is a smallish complex of boutique hotels and eateries, with names like Kaiserhof and Hofburg written in Cyrillic script. The buildings themselves are knockoffs of medieval German architecture, not typically found elsewhere in Russia.
But Kaliningrad is not a typical Russian city. For 700 years, it was Königsberg, a city at the eastern frontier of German-speaking lands and later the capital of East Prussia in Bismarck's Germany. But its annexation by the Soviet Union – and the USSR's subsequent collapse – transformed the region, leaving it between two worlds: politically Russian, but geographically – and historically – European.
"I am proud to be born in such a rich place in terms of history," says Marina Karlova, a student in Kaliningrad.
Ms. Karlova's sentiments are common for young people in Kaliningrad, but represent a marked change for a region that Soviet Russia once tried to rid of its German heritage.
After World War II, the Soviets seized most of East Prussia, renaming the city and region Kaliningrad and expelling its remaining German population to make way for Russian settlers. The medieval cityscape, destroyed by the war, was rebuilt with massive apartment blocks and statues of Lenin and Marx.
---