Ireland announces abortion law reforms, leaving no one satisfied
The new legislation is meant to clarify Ireland's stance on abortion when the mother's health is at risk, but antiabortion groups say it goes too far, and abortion-rights groups not far enough.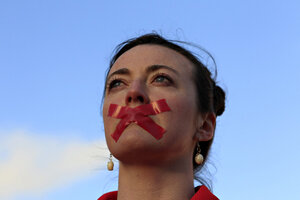 Cathal McNaughton/Reuters/File
Ireland took a step today toward loosening its strict antiabortion regime, as the government announced legislation to legalize abortion in limited circumstances. But a battle lies ahead, as both abortion-rights and antiabortion groups appear dissatisfied with the government's new prescription.
A statement issued after a meeting of ministers today announced legislation and medical-legal guidance allowing for the provision of abortion when a woman's life is at risk in pregnancy. The statement also said criminal law would be amended. At present, abortion is outlawed under the 1861 Offenses Against the Person Act. A bill will be published in the New Year, and, after being considered by parliamentary committee, will be put to a vote.
The announcement is a significant move by the Irish government, which for decades has been resistant to shedding its near total ban of the procedure. But its hand was forced two years ago when the European Court of Human Rights (ECHR) demanded that Ireland clarify its legal stance on abortion.
The ECHR ruling stems from the so-called X case of 1992, when a 14-year old girl who had become pregnant after being raped was forbidden to travel to Britain to obtain an abortion. Ireland's Supreme Court overturned the decision and demanded Parliament enact legislation to allow for abortion in circumstances when a woman's life was at risk in pregnancy, including by threat of suicide. The pregnant girl, known only as X due to reporting restrictions, subsequently miscarried.
The government's statement said both the legislation and the guidance would be "within the parameters" of Ireland's constitution, "as interpreted by the Supreme Court in the X case."
---