Newtown shooting highlights Russia's gun-control debate
Prime Minister Dmitry Medvedev called for further strengthening of Russia's already strict gun-control laws on Monday, but some Russians argue more guns would make the public safer.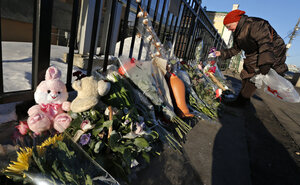 Dmitry Lovetsky/AP
The Newtown school massacre, heavily covered by Russian media, has shed light on a long-simmering debate within Russian society over the wisdom of allowing freer civilian access to firearms.
At present, Russia is one of those countries that gun control opponents often cite with grim satisfaction to bolster the claim that there is no connection between gun ownership and murder. Though Russia today has one of the toughest gun control regimes in the world, its homicide rate is more than twice that of the US.
Russian Prime Minister Dmitry Medvedev, who authored laws to tighten access to weapons while he was president, seized on the US school tragedy to reiterate his viewpoint that even tougher gun control is needed in Russia.
Newtown "was a terrible tragedy. It is deeply distressing," Mr. Medvedev wrote on his Facebook page Monday. "I fully agree with those who are against free weapon possession. This is my principal position as well. By no means should we go down that road."
In Russia, private possession of handguns and any type of automatic weapon is banned outright. The procedure to obtain a hunting rifle is extremely daunting, as Rafail Ruditsky, head of the Saiga gun club in Moscow, explains:
---