What's behind Russia's bill banning US adoptions?
The bill had originally been a smaller, tit-for-tat response to US legislation, but the Russian Duma has expanded it into a much broader anti-American measure that even Putin may not approve.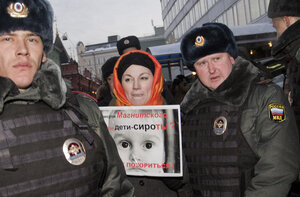 Yevgeny Feldman/Novaya Gazeta/AP
A Russian bill that had seemed initially like a tit-for-tat response to US legislation now looks to be exploding into broad legislation that bars almost any US citizen from engaging in nonbusiness activity in Russia – including the adoption of Russian children.
Russia's State Duma on Wednesday passed a bill, in key second reading, that would ban all adoptions of Russian children by US citizens, order the closure of any politically active nongovernmental organization with US funding, and block US passport holders from working in any nonprofit group that authorities deem connected with politics. The bill passed the 450-seat Duma overwhelmingly, with just 15 deputies opposed.
The now radically amended Dima Yakovlev bill, named after one of 19 Russian children who have died because of alleged negligence by American adoptive parents in the past two decades, goes far beyond the originally stated intent to respond to the US Senate's Magnitsky Act, signed into law by President Obama last week.
---