Is Russia trying a dead whistle-blower because of a US law?
The US recently enacted legislation targeting those Russian officials involved in the 2009 death of whistle-blowing lawyer Sergei Magnitsky, spurring an angry reaction from the Kremlin.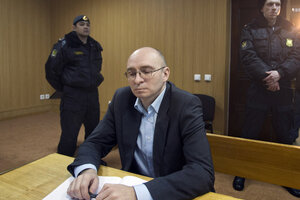 Misha Japaridze/AP
At the center of the stormiest US-Russia diplomatic crisis since the cold war stands the enigmatic figure of Sergei Magnitsky, for whom the US Senate has named a punitive new law that imposes harsh visa and economic sanctions against scores of Russian officials who are deemed to have committed serious human rights violations.
The tale of Mr. Magnitsky, a corporate lawyer who blew the whistle on a vast corruption scheme, was arrested by the same officials he had implicated, and was allegedly beaten to death in prison over three years ago, appears to validate all the worst suspicions held in the West about the nature of Vladimir Putin's Russia. The Magnitsky Act, signed into law by President Barack Obama last month, is a controversial new breed of legislation that aims to compensate for the perceived failures of Russia's justice system by meting out punishment to about 60 Russian officials deemed to have been involved in the wrongful prosecution and alleged murder of Magnitsky.
The Kremlin's incandescent response makes it likely that the mutual acrimony will expand in weeks to come. Mr. Putin called the Magnitsky Act a "purely political, unfriendly act" that demanded a stern riposte. Last week he signed the retaliatory Dima Yakovlev Act, whose key provision is a ban on all adoptions of Russian children by US citizens.
---