Is this the year that the eurocrisis ends?
The European Central Bank has moved to shore up the euro, investors are more confident, and European leaders are surprisingly upbeat. But critics warn that Europe is not out of the woods.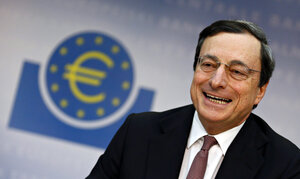 Kai Pfaffenbach/Reuters/File
The eurozone crisis is over – that is, if you choose to believe Jose Manuel Barroso, the president of the European Commission.
Speaking to Portuguese diplomats in Lisbon last Thursday, Mr. Barroso said that "the perception of risk in the eurozone has disappeared." The former Portuguese prime minister added, "Investors have understood that when European leaders commit themselves to doing everything to safeguard the integrity of the euro, they mean business."
So, will 2013 be remembered as the year the eurozone crisis came to an end – without the much-predicted collapse of the common currency, or at least the dropout of some of its members? Or are the skeptics right who say that European leaders have only bought time, and 2013 will be the year eurozone citizens even in the richer countries feel the painful results of austerity programs, sending the European economy deeper and deeper into recession?
Barroso is not alone in his positive assessment. Last month, German Finance Minister Wolfgang Schäuble commented on a successful buy-back of Greek government bonds, saying that the worst of the crisis was over. And according to a survey by German research group Sentix, the majority of the European business community shares this optimism. The number of investors who believe that one or more eurozone members will have to leave the common currency in 2013 is now at about 25 percent, which may still seem high, but is actually down from 33 percent last November.
---