Do French women need feminism?
Working French women, backed by generous government policies, enjoy a reputation for 'having it all.' But that may not mean what Americans might think.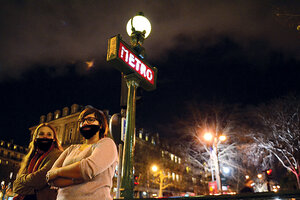 Bastien Inzaurralde
When ex-model and former French first lady Carla Bruni-Sarkozy made comments in the December issue of Paris Vogue declaring, "My generation doesn't need feminism," Anne-Cécile Mailfert, one of many French women catching the news on her iPhone, was aghast.
"What? No way! We have to do something," she characterizes the collective response of the organization she serves as spokesperson for, Osez Le Féminisme or "Dare to be a Feminist." They launched a Twitter barrage with the hashtag "#DearCarlaBruni, we need feminism because…" leaving French women to fill in the "why" for themselves.
"#DearCarlaBruni, we need feminism because people always assume I'm the secretary," was one common tweet. The campaign got so much attention that it finally prompted an apology from Ms. Bruni-Sarkozy – and handed a win to French feminists.
From afar, many think French women don't need such victories, at least when it comes to the child/work balance that so eludes American women. When Anne-Marie Slaughter published her polemic article in The Atlantic titled "Why Women Still Can't Have It All," which was devoured and debated by working mothers across the United States, not a few pointed out that French women often can have it all, thanks to social welfare policies that are virtually unmatched around the world. The subhead of a Slate article from November read, "Maybe working moms can have it all – in France."
But that's only half the story – the other half having been brought to the fore after Dominique Strauss-Kahn, the former head of the International Monetary Fund (IMF) and aspirant to the French presidency, was accused of sexually assaulting a New York City hotel maid in May 2011. The case shocked many with its frank discussion of certain commonly held French attitudes toward women.
In fact the Gallic nation, which spawned such strong feminist figures as Simone de Beauvoir, struggles to surpass its European neighbors in terms of gender equality, even as Christine Lagarde now runs the IMF and French President François Hollande introduced gender parity in his cabinet. French women sit in the bottom half of Europe's rankings on a slew of measures from the most recent 2012 World Economic Forum's Global Gender Gap Index – even taking last place on the group's perceived wage-equality survey indicator – while sexism and even sexual harassment have been overlooked or disregarded as the necessary evil of an otherwise lovely cultural relationship between men and women. Just recently all the government's ministers were sent to 45-minute anti-sexism classes.
Marilyn Baldeck, a young feminist and head of the European Association Against Violence Toward Women at Work, says that she butts heads with deeply held social mores.
---