Does Depardieu herald Russia as a tax haven for Europe?
Fleeing France's high taxes for Russia's flat 13 percent rate, the French actor spoke of Russia in glowing terms during a high-profile meeting with Vladimir Putin over the weekend.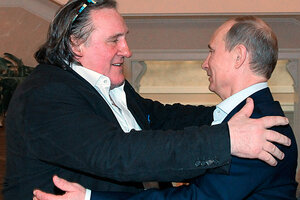 Mikhail Klimentyev/Presidential Press Service/RIA Novosti/AP
French movie star Gerard Depardieu has returned to his native habitat in western Europe following a tumultuous Russia visit that has left behind a nation collectively scratching its head over the instinctively authoritarian Vladimir Putin's quirky decision to bestow Russian citizenship upon a cantankerous foreign tax rebel, and the equally odd spectacle of Mr. Depardieu accepting it amid a fusillade of lavish praise for Mr. Putin's regime.
Most analysts say the event was probably a big domestic propaganda win for Putin, who has been under criticism – even from members of his own government – for imposing a seemingly vindictive ban on US citizens adopting Russian orphans in response to US legislation that targets official Russian human rights abusers.
Some suggest that Depardieu's move might trigger a wave of wealthy Europeans, disgruntled by ever-higher tax rates, to move to Russia where everybody pays a flat 13 percent income tax.
Such talk is encouraged by news that French actress Brigitte Bardot is also threatening to apply to Putin for a Russian passport, albeit for completely different reasons. Ms. Bardot, an ardent supporter of animal rights, is angry about plans by French authorities to euthanize two circus elephants thought to be carrying tuberculosis.
"In the West they badly understand the specifics of our tax system. When they do learn about it, you can expect a mass migration of rich Europeans to Russia," tweeted Deputy Prime Minister Dmitry Rogozin on Saturday.
---