Tunnel vision: London celebrates 150th birthday of its iconic 'Tube'
Construction, crowding, and labor disputes rattle commuters daily. But world's oldest underground passenger rail is 'still at the heart of everything London does,' says London's elated mayor.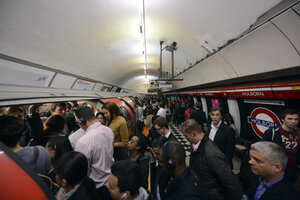 Ki Price/Reuters
Blame poor ventilation, frequent delays, or simply the repeated experience of jostling up against other commuters' armpits on a crowded rush hour train – generations of users have developed a love-hate relationship with the London Underground.
Regardless of how they feel about it, however, the Tube, as the world's oldest subterranean passenger railway is affectionately known, is turning 150 this week, a milestone that will kick off a year-long celebration.
Indeed, while the London network has been criticized in recent decades for overcrowding, a lack of development compared with other European systems, and intermittent labor conflicts, experts say that one of the world's most famous city train networks is coping with old age relatively well.
The Tube "annihilates distance, liquidates traffic, and is the throbbing cardiovascular system of the greatest city on earth," London's flamboyant Mayor Boris Johnson said Wednesday. "Our massive upgrade program builds on the engineering ingenuity of our Victorian forefathers and through new signalling, trains, and track, millions of Londoners and visitors will continue to benefit from what is arguably the best, and most iconic, underground transport system in the world."
Indeed, the Tube in 2013 is a world away from Jan. 9, 1863, when a train chugged out of West London's Paddington Station and made its way east to Farringdon in the first Tube passenger journey – one that will be recreated Sunday with a series of specially restored trains.
---