Parting blows: Clinton blasts Russia for inaction in Syria
In her last week as secretary of State, Clinton accused Moscow of being 'unwilling to go forward' in helping to broker a peace deal. The Russian government says she has distorted the picture.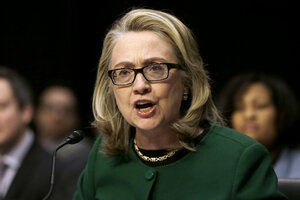 Pablo Martinez Monsivais/AP/File
Outgoing Secretary of State Hillary Rodham Clinton leveled an angry blast at Russia Thursday, making clear that the United States sees Moscow as bearing most of the blame for the international community's failure to broker any kind of peace deal for war-torn Syria. 
The Russian Foreign Ministry lashed back Friday, saying that Ms. Clinton is turning reality "upside down" in an effort to shield her own reputation after almost two years of "obstructing" efforts to forge a political settlement for Syria. 
It is the harshest exchange of accusations so far in the acrimonious US-Russia dialogue over what to do about Syria, where an escalating civil conflict has killed more than 60,000 people, according to United Nations estimates. 
Some experts say it's just the latest stage in a long-running blame game, in which the US and Russia both know there's little they can do to fix Syria but each wants to make sure the other looks responsible for that failure. 
Others argue that there is an ongoing and fundamental misunderstanding between Russia and the US over the best road to peace, and that a common position may still be possible. Moscow believes it should be sought through negotiations between the warring parties, including the Assad regime. Washington thinks the world community should pressure Mr. Assad to step aside as a primary condition for real national reconciliation. 
For a brief moment last July, it appeared that the two sides had bridged their differences and agreed on a joint approach for a Syrian transition, and Russia began holding meetings with Syrian rebel leaders in preparation for its role in the process.  
But in a round table with journalists Thursday, Clinton suggested that the Russians were never sincere.
"I hammered out an agreement in Geneva last summer, largely negotiating with Sergei Lavrov, the foreign minister of Russia," she said. "I thought it was pretty clear what our next steps would be. And certainly from my perspective, the Russians were unwilling to go forward."
"We had made it our position that we would not open the door to military action, but we wanted to take political action, economic action through the Security Council. I had reason to believe that we would be going to the Security Council to do that; and unfortunately, once again, the Russians sided with Assad, who knew that if we were able to implement the Geneva agreement that we had negotiated, that that would send a very clear signal that Assad was being isolated even further 'ÄĒ a signal to those around him, a signal to his troops, a signal to the region. And I think the Russians decided that they would still support him much to the great loss of the Syrian people."
Russia's Foreign Ministry lashed back Friday. 
"In their public statements, American representatives often show a very biased, and sometimes completely wrong interpretation of Russia's position on Syria," the official RIA-Novosti agency quoted spokesman Alexander Lukashevich as saying. 
"The same refers to the US Secretary of State's statement, which it is hard to assess as [anything] other than an attempt to turn everything upside down," he added. 
Some Russian analysts say that Clinton is justifying the tough line that she brought to Syria policy, which they hope will be toned down after she is replaced by John Kerry. 
"The harsh rhetoric that Clinton expressed was her own opinion, and not necessarily that of the Obama administration," says Dmitri Suslov, an expert with the Council on Foreign and Defense Policies, a leading Moscow think tank. 
"She's upset over the stalemate with Russia, but it has turned into a kind of personal war between her and the Russian leadership over Syria.... In fact the Geneva agreement was doomed from the moment it was signed because Clinton began immediately declaring that it means Assad must be excluded from any role in the process.... But Russia never agreed to that," he says. 
"Hillary Clinton is a hawkish Democrat, and she may well have future political ambitions. We see it that way, that she's trying to carve out her niche, to become the Democratic symbol of a more assertive foreign policy that Obama has pursued," he adds. 
But Sergei Strokan, a foreign affairs columnist for the Moscow daily Kommersant who covered the Geneva negotiations, says the two sides never really tried to understand each other. 
"The basic problem here is the vague language of the Geneva communique," he says. 
"Under pressure to produce results, they wrote something that could be read this way or that way. Later you discover that the two sides understand the document differently 'Äď big surprise," he adds.¬†
"Now you can see how the chicks come home to roost, how you have to pay for all those little compromises and omissions." 
---