Europe, Cyprus look for way out of crisis. Could Moscow save the day?
The now-rejected bailout tax plan has left Cypriots and Europeans alike unhappy. Now Cyprus is looking to Russia for money.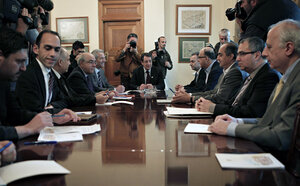 Petros Giannakouris/AP
As Cyprus, the eurozone's third smallest economy, is staring state bankruptcy in the face, European leaders are scratching their heads: How did we end up in this mess? And, more importantly, what is the way out?
In spite of the potentially devastating consequences, the Cypriot parliament on Tuesday vehemently rejected a bailout deal for the technically insolvent country hammered out in Brussels a few days earlier. Under the deal, 10 billion euros ($13 billion) would have come from the eurozone's rescue mechanism, but it would have obliged Cyprus itself to add another 5.8 billion euros ($7.5 billion). This additional money was meant to be raised through a one-off tax on each account held in Cyprus, and there is some confusion about where the idea for this special levy came from in the first place – Nicosia, Brussels, or even Berlin.
Whatever the answer, everybody is unhappy now.
The Cypriot people, who like the rest of eurozone citizens had lived with the promise that the money in their accounts was safe, feel betrayed by Europe. The Cypriot government is caught between an angry electorate, the threat of big investors taking flight, and the prospect of state bankruptcy. Meanwhile eurozone leaders are trying to gauge what damage the idea of European Union solidarity has sustained through their tough stance on Cyprus.
"We have learnt two things already from this latest chapter in the eurocrisis story," says Raoul Ruparel, head of economic research at the London-based think tank Open Europe. "They won't try a deposit tax again after the backlash they have seen in Cyprus. But still Germany will take a much harder line in any future bailout."
---