Has Britain 'got it right' with Margaret Thatcher's $15 million funeral?
The late prime minister's London funeral Wednesday, while falling just short of a full state ceremony, will command a hefty price tag, leaving some Britons less than pleased.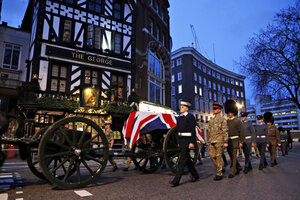 Lefteris Pitarakis/AP
In life she polarized a nation, and in death Margaret Thatcher has been no different.
Since her passing was announced by her former PR manager last Monday, Britain has again been divided by her politics, with public protests attended by some people not even born during her 11 years in power from 1979 to 1990.
And further splitting the divide will be tomorrow's almost state-like funeral arrangements which, coming with a £10 million ($15 million) price tag have angered some Britons.
Tomorrow morning, the grocer's daughter from the middle England town of Grantham in Lincolnshire will be given a de facto state funeral, with her body carried on a gun carriage along London streets lined by 700 members of the Armed Forces. Falkland veterans will carry her coffin into St. Paul's Cathedral, where around 2,000 guests have been invited to the service in a farewell meticulously planned by Mrs. Thatcher in her later years.
But the elaborate arrangements have their critics, among them the bishop of Thatcher's home town, the Right Rev. Dr. Tim Ellis. Asked by BBC Radio Lincolnshire whether the organizers had "got it right" in spending £10 million on the funeral, he said: "I personally don't think that they have. It plays into the hands of those more extreme people who will use the funeral as an opportunity to promote certain political views."
Senior Labour and Liberal Democrat politicians also called for a more modest funeral, but senior Tories such as Prime Minister David Cameron and Foreign Secretary William Hague said the current plans are appropriate. Last week, Mr. Hague argued that a £75 billion EU rebate she negotiated in the 1980s would more than cover the cost.
---