As Britain's military shrinks, US concerns grow
The US has long relied on UK military support in foreign campaigns. But can that last much longer?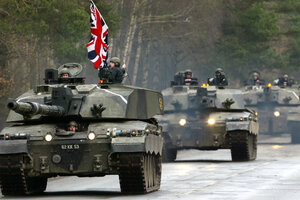 Tobias Schwarz/REUTERS/File
Following the killing of a young soldier on May 22 in London, the outpouring of shock and grief was no less than expected – public pride in the armed forces has always been high, even if support for recent wars has not.
Yet at a time of austerity, the British public's enduring attachment to its men and women in uniform still isn't enough to save the country's £34 billion ($52 billion) defense budget from bearing its share of severe government spending cuts. The latest plan, issued in June, targeted the reduction of full-time personnel from 102,000 to 82,000 by 2018.
"The reality is that we're spending less on defense because the public or political appetite to do otherwise is absent," says Timothy Edmunds, a professor at the University of Bristol who studies defense and security institutions in processes of political and organizational change.
"Polling since the end of the cold war has consistently shown that if you ask the question 'do you mind spending more on defense?' most people say 'yes, we support the armed forces.' But if you ask 'would you spend more on defense at the expense of other areas such as health and education,' defense comes right at the bottom of the list."
In the future, the British military is intended to be leaner, more able to concentrate on specialization, and more reliant on reserves.
Crucially, planners have decided that the military will no longer be able to mount the sort of long-term operations conducted in Iraq and Afghanistan. Going it alone in the form of the task force that liberated the Falklands in 1982 will also no longer be an option.
---