Global elections watch: All eyes on U.S. race
Who would foreigners like to see at the helm of the world's superpower – a Republican or Democrat?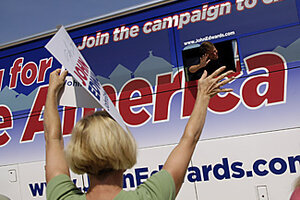 Andy Nelson – staff/FILE
Pakistan, Russia, and Zimbabwe are holding elections this year. Cuba's Fidel Castro is talking about retirement. But few leadership changes in 2008 will be as closely watched as the US election. Who Americans want in the Oval Office won't be known until November. Yet from Mexico to Iraq, people are already forming views about who they'd like to see at the helm of the world's only superpower, says correspondent Mark Rice-Oxley in London. A Monitor survey found opinion divided, and often counterintuitive.
Would you prefer a Democrat or a Republican as the next US president?
Liberals don't necessarily support a Democrat, nor do conservatives necessarily want a Republican. Many people interviewed outside the US said it was time for a change. But some felt that having Democrats in both the White House and Congress could hurt global trade.
---