Climate worries complicate Alaska drilling plan
Lease sales could produce 15 billion barrels of oil, but environmentalists say drilling would threaten already melting habitat.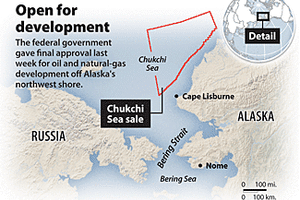 SOURCE: ESRI/AP
A controversial proposal to extract vast supplies of oil and gas from Alaska's outer continental shelf pits America's energy needs against environmental protection. Unlike similar clashes in the past, there's a complicating factor this time: global warming.
The US Interior Department's Minerals Management Service (MMS) is offering the sale of oil and gas leases covering nearly 46,000 square miles in the Chukchi Sea off the northwest coast of Alaska.
Initial geological studies indicate that the area, roughly the size of Pennsylvania, has the potential to produce 15 billion barrels of recoverable oil and 77 trillion cubic feet of natural gas. Together with the potential energy development from lease sales offered recently in the nearby Beaufort Sea, that's enough to fuel 25 million cars and heat 46 million homes for 30 years.
"It's a significant slice of the energy we consume, based upon current rates," says Richard Ranger, an adviser with the American Petroleum Institute, an industry group. "The potential, we would argue, is of strategic significance."
---