New research raises concern on biofuel safety
Even as some states are mandating ethanol as part of the fuel mix, new research suggests that some biofuels are less ecofriendly than they seem.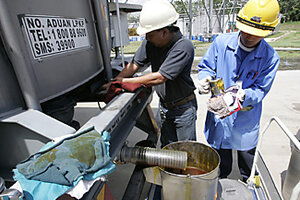 Zainal Abd Halim/Reuters
Creating fuel from plants seems like a win-win proposition. It reduces dependence on foreign oil, and it doesn't produce the greenhouse gases that cause global warming – at least that's what advocates claim. But biofuels are not without their critics.
Some recent research suggests bio fuels could have a greater environmental impact – biodiversity loss, destruction of farmland, and the energy necessary to produce them, for example – than burning fossil fuels, reports The Guardian, a British daily.
"… [A]lmost half of the biofuels, a total of 12, had greater total environmental impacts than fossil fuels. These included economically-significant fuels such as US corn ethanol, Brazilian sugar cane ethanol and soy diesel, and Malaysian palm-oil diesel." Because of the questions raised over biofuel safety, the European Union is working on a proposal to ban some imported biofuels believed to do more harm than good. The International Herald Tribune reports in its environment blog: "The idea is to refuse imports of fuels made from raw materials grown in forests, grasslands or wetlands that were recently cleared. The EU also wants biofuels used in Europe to deliver at least a minimal reduction in greenhouse gases compared to conventional gasoline and diesel."
---