Swedes weigh global warming versus a better tan
Eco-minded Scandinavians crave winter vacations. Yet the long flights add to greenhouse gases. Should they hit the beach or save the planet?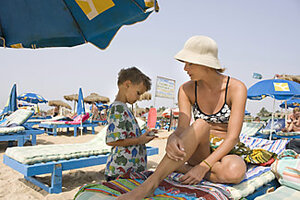 BOB RIVES
Like many other Swedish sun worshipers crowding a white-sand beach here on this morning, Elisabet Brandt considers herself to be a good environmentalist. At home in the south Swedish town of Helsingborg, Ms. Brandt waits in the sleet and snow for the bus to take her to work, rather than drive. "I don't even own a car," she says with pride.
Brandt, a nurse, also sorts and recycles her garbage through a program that has made Sweden a leader for converting household waste into bioenergy. And she will, of course, never leave her house without first turning off all lamps. Though half of Sweden's power supply comes from hydroelectric plants, a renewable energy source, many consumers still take care not to waste power to keep bills down.
All this has helped Brandt and 9 million other Swedes transform their nation into one of the greenest on earth. Indeed, the country recently placed second among 149 nations in a prestigious environmental index developed by Yale and Columbia universities. The United States was 39th.
Yet for all their geothermally heated homes and pricey hybrid cars, Swedes have one dirty habit they refuse to give up: long-distance air travel to warmer and sunnier locales. Like the beaches here in India.
---