Hurricane season: big start
July's storms bolster forecasts for a very active year.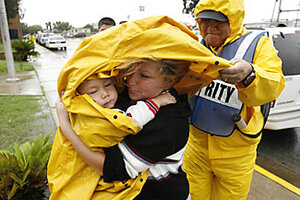 Erich Schlegel/The Dallas Morning News/AP
As the remnant of hurricane Dolly creeps toward far northern Mexico, the 2008 Atlantic hurricane season already is generating buzz as hurricane specialists look at July's unusually high level of activity.
The three named storms so far this month appear to bolster forecasts for a very active season this year. They also appear to fit what some researchers see as an emerging pattern of storms that form earlier as well as later than usual, in effect lengthening the active period within the hurricane season. The official season runs from June 1 to Nov. 30.
Whether or not that pattern holds up to scrutiny, there is little question that this year's Atlantic hurricane season is off to an energetic start.
"The atmosphere's just juicier than it normally is in June and July," says Phil Klotzbach, a research scientist at Colorado State University. He notes that ocean temperatures in a key region of the eastern Atlantic Ocean have been warmer than normal and air pressures at sea level there have been lower than normal – conditions that favor storm formation and growth. Moreover, the lack of El Niño conditions in the tropical Pacific appears to be reducing the sharp differences in wind speed with height over the Atlantic that tend to stifle tropical-cyclone formation.
---