Briefing: A rocky start for war crimes world court
The arrest warrant for Sudan's president is indicative of the mounting pressure on the International Criminal Court to show results.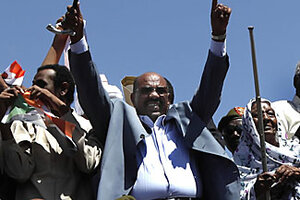 Nasser Nasser/AP
The International Criminal Court's indictment Wednesday of Sudanese President Omar al-Bashir prompted Sudan to expel more than a dozen aid groups, and some African leaders warn that the arrest warrant will damage fragile peace negotiations. The court's first trial, which began in January to try Congolese warlord Thomas Lubanga, was postponed after the star witness recanted his testimony.
It's a rocky start for the young tribunal set up to try the most serious international crimes. The court, the world's first permanent war crimes tribunal, faces mounting pressure to show results in the face of logistical hurdles and harsh opposition to both its very existence and its attempts to carry out justice.
Why did the international community decide to set up a permanent court?
Until the establishment of the ICC, no permanent court existed for trying individuals accused of war crimes or genocide. The International Court of Justice only has jurisdiction over conflicts between states.
But nations have been prosecuting war crimes since after World War II, when the Allied powers created international tribunals to try Nazi and Japanese war crimes. In more recent decades, the United Nations has established tribunals to prosecute war crimes in the former Yugoslavia, Rwanda, Sierra Leone, and Cambodia. But these tribunals are expensive, and experts say they are less efficient and less of a deterrent than a permanent court.
---