The new US point man on war crimes: Stephen Rapp
New war crimes ambassador Stephen Rapp exemplifies Obama's deeper engagement on international law. His résumé includes prosecution of those who promoted genocide in Rwanda.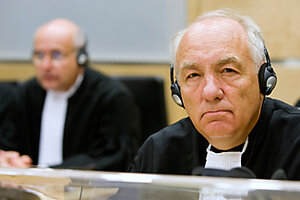 Reuters/United photos
New US ambassador for war crimes Stephen Rapp knows firsthand what it takes to prosecute man's inhumanity to man. The former Iowa district attorney has already prosecuted participants in the Rwanda genocide and former Liberian strongman Charles Taylor.
The United States is much criticized abroad for its attitude toward international justice and world courts. The charge in Europe and Africa is that the US wants universal law for others but not for itself.
But in Mr. Rapp, who took up his duties Sept. 8, President Obama has found someone who international justice advocates expect will deepen US engagement in crimes against humanity cases.
For instance, Rapp favors an International Crim­­inal Court (ICC) investigation of Kenya's 2007-08 postelection violence and wants an investigation into September's soccer stadium killings and rape in Guinea. "Mass crimes against humanity are not acceptable ... and the US will be more engaged," Rapp told a conference of jurists in Madrid earlier this month.
---