Copenhagen climate change talks stall as CO2 emissions rise
The Copenhagen summit on climate change is looking less likely to produce a binding CO2 emissions reduction agreement as a new study finds that global carbon dioxide emissions increased 29 percent in the past nine years.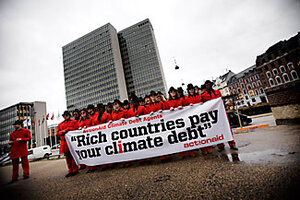 Jens Panduro/Polfoto/AP
Even as the Copenhagen climate change negotiations have moved into the slow lane, greenhouse gas emissions are accelerating, according to new evidence released today.
Negotiators at a preparatory meeting for the December climate summit said on Tuesday that firm commitments from the US and other industrial heavyweights to curb greenhouse gas emissions at the meeting are now looking unlikely. A binding global treaty on emissions was the initial aim of the conference.
Meanwhile, The Global Carbon Project, an international group of climate scientists, released research on Tuesday that found carbon-dioxide (CO2) emissions from power plants, factories, tree-felling and other human activities grew by 29 percent between 2000 and 2008 –a period in which leaders of major industrialized nations took the first fledgling steps to reduce their own emissions and make an international climate treaty work.
The Kyoto Protocol on combating climate change was passed in 1997 by over 180 nations with the intent of reducing global carbon emissions to a 1990 baseline. But in the intervening 12 years emissions have continued to rise, as country's have been unwilling to take the economic hits that reduced emissions are likely to require.
Political leaders are now looking to the US and President Barack Obama to take the lead on climate change, since the US is the second-largest carbon emitter after China. But legislation to curb US emissions is currently stalled in Congress, a factor that also makes broad success in Copenhagen less likely. Also uncertain is aid from the developed world to help poorer countries offset the economic hardships of converting to cleaner power sources.
---