Global warming: Why public concern declines
On eve of the global warming summit in Copenhagen, Denmark, an informal global survey shows that public interest in the issue is waning. But many people are taking individual steps to curb global warming.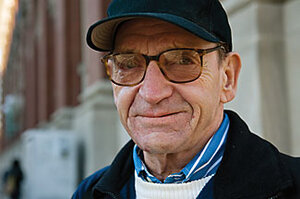 Sarah Beth Glicksteen/The Christian Science Monitor
It's a classic Kodachrome day in Orange Beach, Ala. Cerulean skies contrast against a dazzling white shoreline dotted with rainbow-hued beach umbrellas. Jenna Rutledge slides flip-flops from her feet and wedges her toes beneath the cool sand. Bliss. In fact, only one thing seems odd about this technicolor tableau: That it is so balmy on this November day, even along the Gulf Coast.
Ms. Rutledge, like many people, attributes the lingering summer weather to global warming. But the more she listens to environmental pundits, the more perplexed she becomes.
"I don't know who to trust," she says, tucking a magazine into a canvas tote bag. "You hear evidence that seems to back global warming, but then you hear it's a cyclical thing the earth goes through."
Welcome to public attitudes in this year of Mother Earth, circa late 2009. As the US and other nations prepare for a global summit on climate change in Copenhagen, Denmark, Dec. 7-18, the biggest problem facing delegates may not be all the political differences between rich nations and poor, between developed countries and developing ones, between big smokestack nations and lesser ones.
It might be waning public attitudes about climate change worldwide.
---