Five nations boosting their culture of innovation
How places like China, Brazil, and Israel are taking aggressive steps to encourage more start-ups – and what that means for the US.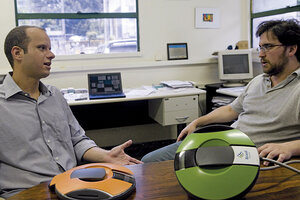 Chantal James/Special to The Christian Science Monitor
From Europe to Asia and beyond, the hunger to innovate has created lots of entrepreneurial competition for America.
Start-up firms are helping to manage traffic in the teeming cities of Brazil and have allowed less-populous nations such as Israel to become fertile soil for new business ideas.
These nations view innovation as a vital source of economic competitiveness. Not that long ago, the United States was the clear world leader in most industries and technology.
Now, while it's hard to put any other nation as "No. 1," America no longer enjoys such a privileged position.
The global spread of inventiveness is a disruptive force but also a beneficial one, economists say. If more of the world's people are innovators, more will be creating new industries or solving problems like how to control carbon emissions.
"Innovation is growth, and growth creates jobs," says Vijay Govindarajan, who heads the Tuck Business School's Center for Global Leadership at Dartmouth College in Hanover, N.H.
And increasingly, he says, innovation is occurring in a global matrix with ideas flowing among developed and developing nations.
"The United States can be competitive in the next 25 years only if we embrace globalization 150 percent," he says. "Globalization is like gravity. You can deny it only at your peril."
---