An international adoption story: Hannah, from Russia
Hannah Rocklein's saga – an international adoption 11 years later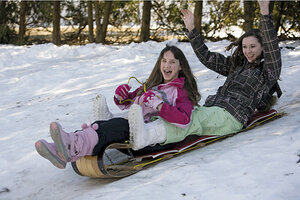 Melanie Stetson Freeman/Staff
In 1999, Monitor readers met Hannah, a 3-year-old Russian girl adopted by American parents. A Monitor team – Marjorie Kehe and Melanie Stetson Freeman – chronicled Hannah's journey from a stark orphanage near Moscow to a new life in Massachusetts. In 2003, they updated her story, finding the 6-year-old negotiating the traumas of adjustment as a "giver" and "a ray of sunshine." They return now to see the 13-year-old Hannah.
Right from the start, her caretakers called Hannah a "miracle child." The little girl who once had so many odds stacked against her has come so far. So it should surprise no one that she has weathered the latest changes in her life – economic struggles, divorce, major family changes – with gentle poise.
Hannah Rocklein today, at 13, is surrounded by a caring family: her parents, brother, sister, three half siblings, and – recently – a stepfather and two stepbrothers. It's hard to imagine a child more closely ringed by love.
---