International adoption: A big fix brings dramatic decline
International adoption has fallen sharply under tougher scrutiny caused by issues like Haiti's post-quake orphan scandal as well as stricter global regulations.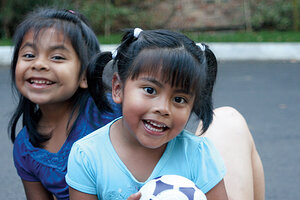 Ezra Fieser
When Silvia Sebac's birth mother made the five-hour bus ride through the mountainous countryside to leave her at an orphanage in Guatemala City, the infant had every prospect of an international adoption – of captivating adoptive parents from the US or Europe.
That was four years ago, when the adoption business was booming and people from rich countries were traveling the globe from China and South Korea to Russia and Ethiopia to find a child to complete their families. At the time Silvia arrived in Guatemala City, her country was giving up nearly 5,000 children annually – 1 in every 100 births. Adoption was an estimated $100 million industry that attracted thousands of international families willing to pay more than $30,000 to lawyers and agencies and to the capital city's towering hotels that dedicated entire floors to adoptive parents, catering to their every diaper and baby cream need.
But by the time her two-year wait to be declared legally abandoned was up, dark-eyed Silvia had no takers. Intercountry adoptions had begun to plummet.
---