Nuclear weapons: Is full disarmament possible?
As world leaders convene in Washington for a summit on halting the spread of nuclear weapons, a global debate is rising on the merits – and feasibility – of total nuclear disarmament.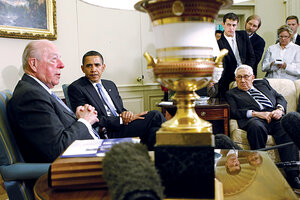 Kevin Lamarque/Reuters
Paris, Berlin, Washington, and San Francisco
The dew had barely dissipated from Barack Obama's inaugural as the four senior men slipped into the Oval Office. The executive precincts were intimately familiar to all four – former Secretaries of State George Shultz and Henry Kissinger, former Sen. Sam Nunn, and former Defense Secretary William Perry.
Mr. Obama's national security adviser, Gen. Jim Jones, and his chief of staff, Rahm Emanuel, were in the room. But they didn't say a word. The president engaged the four men on his own. The topic was a project to eliminate nuclear weapons, which the elder statesmen feel ardently about.
But they didn't have to do much convincing. Obama was already there, ready to carry the nuclear-free torch as Presidents Kennedy and Reagan had before him.
"He told us this was one of the top four objectives of his presidency," Mr. Shultz recalls of the meeting. "He said, 'Let's see if we can do something about this....' He conducted the conversation entirely on his side."
---