Doubt cast on Noah's ark found in Turkey
A group of Chinese and Turkish explorers announced this week they are '99.9 percent' sure of their discovery on Mt. Ararat. While Noah's ark found in Turkey would bolster Bible literalists, an American ark-hunter says the latest discovery could be a hoax.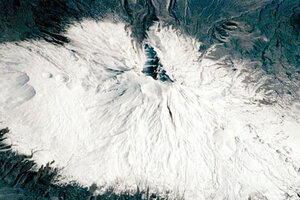 NASA HO/Enterprise Photos/Newscom/File
A longtime ark-hunter has serious doubts about this week's announcement that Noah's ark was found in eastern Turkey.
A Chinese-Turkish team from Noah's Ark Ministries International held a press conference April 25 in Hong Kong to present their findings and say they were "99 percent sure" that pieces of wood found at above 12,000-feet elevation and dated as 4,800 years old were from the biblical Noah's ark.
Such a finding would provide evidence for a literal interpretation of the Bible and boost the evangelical Christian worldview in a relatively young Earth that was formed in seven days and where a wrathful God punishes the wicked.
But Dr. Randall Price, an evangelical Christian and former member of the Chinese-led team that announced this week's finding, says the latest purported finding may not withstand closer scrutiny.
"If the world wants to think this is a wonderful discovery, that's fine. My problem is that, in the end, proper analysis may show this to be a hoax and negatively reflect how gullible Christians can be," he says.
'Difficulties with a number of issues'
---