Pope Benedict blames 'sin inside the church' for Vatican woes
Pope Benedict XVI made his most direct comments to date about the sexual abuse scandals that have hit the Catholic church in Europe. He said the Vatican's problems were 'born from sin inside the church' and called for 'justice.'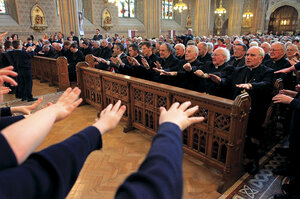 Peter Muhly/AFP/Newscom
Pope Benedict XVI appeared to distance himself Tuesday from Vatican efforts to blame the media for the pedophile priest scandal that has engulfed the Roman Catholic church, telling reporters that the greatest threat to the church has come from within.
On a flight to Portugal, Benedict told reporters "the greatest persecution of the church does not come from the enemies outside, but is born from sin inside the church... the church has a profound need to relearn penance, to accept purification, to learn on the one hand forgiveness but also the necessity of justice."
The comments were both the most direct and most self-critical the pope has made about a rash of reports in Europe that priests accused of sexually abusing children were shuffled between dioceses by their superiors rather than being quickly defrocked.
For decades, the Catholic Church had approached the problem of child abusing priests with psychological counseling and prayer. Pope Benedict himself dealt with Father Marcial Maciel, the founder of an influential Catholic order in Mexico who had sexually molested boys, in 2006 by ordering him to a private life of "prayer and penance."
But today Benedict signaled stronger action against abusers going forward, saying: "Forgiveness does not substitute justice." In fact, stronger action has already begun to be taken as the pope seeks to quell the biggest crisis to hit the church since he was elected in 2005.
---