Will US revoke the right of American citizenship to foreigners born here?
A bill in the House of Representatives would change the 14th amendment to the US Constitution that grants anyone who is born on US soil the right of American citizenship. Efforts to revoke birthright citizenship could make it the new flashpoint in the debate over immigration.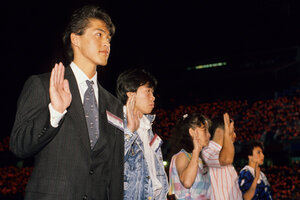 Newscom/File
Anyone born on American soil is an American.
That's an unconditional right, according to the 14th Amendment of the US Constitution.
It's not an exclusively American practice. Worldwide, about 30 nations (mostly in the Western Hemisphere) have similar birthright citizenship policy. Citizenship based on where a person is born, is called jus soli which is Latin for "right of the soil."
But jus soli is primarily a New World right. Today, there are no European nations that grant jus soli. Most countries in Europe use a jus sanguinis policy, which determines citizenship based on having an ancestor who is a citizen.
A bill making its way through Congress, if passed, would bring the US more into line with current European birthright policies. But in the wake of the controversy over Arizona's new immigration policy, any changes to the 14th amendment would likely become another flashpoint in the debate over illegal immigrants.
"Many countries do not grant birthright citizenship because they have older histories and see themselves as individual nations with individual identities," explains John Skrentny, Director of the Center for Comparative Immigration Studies and sociology professor at the University of California at San Diego. "Whereas the United States, like many other countries in the Western Hemisphere, began as, and has always seen itself as, a melting pot," he says.
In recent years, other nations, even if they seem themselves as open to legal immigrants, have taken steps limit the size of any demographic boost based on births to foreigners.
---