Global doors slam shut on immigrants
While Arizona's anti-immigrant law gets all the attention, countries around the world are pursuing tough immigration polices on a scale rarely seen in history.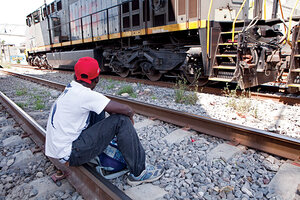 Melanie Stetson Freeman/Staff
In this town of 800,000, illegal immigrants beg in the middle of streets and linger along the railway tracks that clack incessantly with boxcars ferrying food and textiles. They cook over open fires under highway overpasses. They sleep by day on dirty backpacks that bulge with a life's belongings and wait for taco stands and cantinas to close at night to plead for leftovers.
While the migrants draw sympathy from those who give them the coins from their pockets, others just want them to go home. "Some people say, 'Oh the poor migrants,' but not when you have been assaulted as I have," says Blanca Estela Perez, a waitress and cook at a restaurant who says one of her employees was robbed of a week's pay last month. "I do not like them here. Not at all."
It sounds like the sentiments of an exasperated resident of Texas or Arizona on the US-Mexican border. But actually, this is Tultitlan, in central Mexico, and the migrants overrunning this industrial city of smokestacks and sweat come from Central America and beyond.
Take the Monitor quiz: Could you pass a US citizenship test?
Just as Americans want Mexicans out, Mexicans, who might be tolerant of their country as a passageway north to the United States, have no patience with the undocumented Guatemalans and Hondurans increasingly falling short of their destinations. Nor are their feelings of resentment unique. Around the world, the welcome mat for outsiders is being rolled up on a scale rarely seen in history as economies continue to struggle and worries about cultural identities rise.
---