Qantas A380 engine emergency casts scrutiny on Airbus superjumbo jets
An Airbus A380 operated by Qantas blew out an engine shortly after taking off from Singapore Thursday in the most serious incident involving the world's biggest jetliner since its launch in 2007.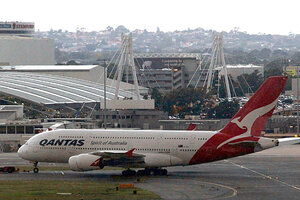 Daniel Munoz/Reuters
Qantas and Singapore Airlines have grounded their fleets of Airbus A380 airliners after one of the jets operated by Qantas blew out an engine, shooting flames and dropping large metal chunks.
Although the incident ended without injury, it is drawing close scrutiny as the most serious mid-air emergency for the world's largest jetliner, a superjumbo that can seat 525 people.
The trouble aboard the Qantas flight started six minutes after it left Singapore on its way to Sydney. The pilot dumped fuel over Indonesia before returning to Singapore's Changi Airport. When the jetliner landed, it appeared that casing from its number two engine was missing and parts of the engine were blackened. None of the 433 passengers or 26 crewmembers were hurt.
It was the most serious incident involving an A380 since the launch of the jetliner in 2007. Qantas immediately grounded its fleet of A380s. Singapore Airlines followed suit a few hours later, saying it would conduct technical safety checks on the advice of Airbus and Rolls-Royce, the maker of the Trent 900 engine that failed. Not all A380s use that engine.
Continuing flights
Three other airlines that operate the A380 – Air France, Emirates, and Lufthansa – said they will continue flights as scheduled.
---