Bush 'not telling truth' in 'Decision Points' memoir, says German ex-chancellor
George W. Bush's 'Decision Points' memoir is attracting global scrutiny. Former German Chancellor Gerhard Schroeder disputes that he initially offered support for the invasion of Iraq.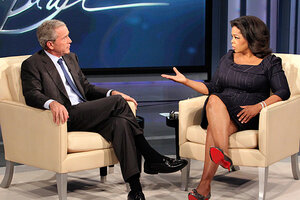 George Burns/Harpo Productions Inc./AP
Among the many global reactions to George W. Bush's memoir "Decision Points," the former German Chancellor Gerhard Schroeder has now said that the 43rd United States president "is not telling the truth."
In the memoir, released Nov. 9, Mr. Bush writes that Mr. Schroeder in 2002 committed to supporting the US invasion of Iraq, only to renege later that year, a claim that the former German chancellor fiercely denied in an interview with German magazine Der Spiegel.
George W. Bush's appearances this week on NBC, Oprah, and Jay Leno underscore how his memoir "Decision Points" is geared toward an American audience. But the former president is also attracting international attention, with media worldwide focusing on aspects of the book specific to their regions.
Ukraine's The Kyiv Post, for example, highlights how Russian leader Valdimir Putin, after he met Mr. Bush's Scottish terrier Barney, introduced the American president to his "big black Labrador." Bush writes that, "With a twinkle in his eye, Vladimir said, 'Bigger, stronger, faster than Barney.' "
---